Tension between Jeff Gordon and Jimmie Johnson? There was no hiding it following Sunday's Aaron's 499 at Talladega Superspeedway where, moments after getting out of his torn up race car, Gordon had this to say about his teammate and friend: "The 48 [Johnson] is testing my patience. It takes a lot to make me mad, but I am pissed right now. … I don't know what it is with me and him right now."
We think Jeff Gordon may just be a little fed up with being on the losing side of this sensational team. To be completely fair though, we're sure #24 isn't the only driver tired of losing to Jimmie Johnson.
The question now is how does this impact their relationship going forward?
In other strange and dramatic NASCAR news…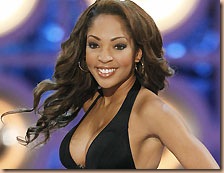 Miss America Caressa Cameron was overcome by heat and unable to sing the national anthem. Sunday before the NASCAR races at Talladega Superspeedway the Miss America Organization says Cameron was taken to the track's medical care center…
Sport and Motor Tagged: feud motorsport nascar news women